Birth Day: After marriage Anushka celebrated her first birthday, Virat gave this special gift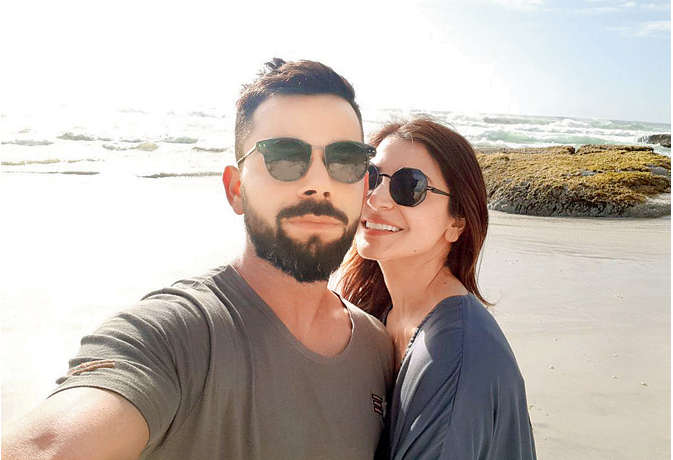 Today is the 30th birthday of Anushka Sharma, the cute actress who started her career in films with Shahrukh Khan's film 'Rab Ne Bana Di Jodi'. This is so special for the Birthday Anushka because, after marriage, Anushka's first birthday is being celebrated with Virat Kohli.Anushka is currently busy shooting for her upcoming movie 'Sui Thaaga' and Virat Kohli is in the IPL matches. In spite of this, Virat celebrated Anushka's birthday very well in Bangalore. Here's how Anushka's Birth De Celebration and About Virat Kohli's Gift …
Both of these days are giving more time to their professional lives. Anushka is in her shoot, Virat in her IPL matches Still, Anushka did not leave any problem in making special specials on her first birthday day after marriage. In fact, Virat has shared a picture with his Instagram account, in which he looks like Anushka is eating a berth day cake.
On seeing in his background, some leaves of rose flowers will be seen which has a cake in it. Virat shared this post for a fancy, 'Happy Birthday My Love … a very positive and honest person I know. Love U. 'If reports are believed, both of these Anushka's celebrities have celebrated this Birthday with their close friends in Bangalore. At this moment there is no confirmation that this picture is about the birthday of Anushka.
Anushka had these tasks in childhood as a choice
Anushka Sharma was born in Col. Ajay Kumar Sharma's house on May 1, 1988. Anushka's family lived in Bangalore and her education from an army school of Anushka Sharma was completed. From an early age, Anushka was very fond of modeling and also kept Toffee wrappers. They liked to wrap Toffee wrappers. Anuska rapper put in his shoes coats by adding joints and then he was caught one day.
His mother caught him doing this one day and thrown him out of a lot of toffee wrapper boots.
click here to

read hindi
⇊⇊⇊⇊
read hindi