About Voter List Reform program 2023 Gujarat
The election card that we have is considered as one of the most important documents. Election card reform program 2023 has been announced in Gujarat as Lok Sabha elections are coming soon.
Normally this campaign comes twice a year, this time during this campaign you can enter new name, correct your address or other election card details if you are 18 years old on 01/01/2024, support election card You can link to the card, you can change your name or your family members name.
Important Days Of This Voter List Reform program 2023
Under the voter reform programme, special campaign days are fixed under which you can visit the BLO of your area to add, subtract or correct your names.
Date 04 November 2023 Saturday
Date 05 November 2023 Sunday
Date 02 December 2023 Saturday
Date 03 December 2023 Sunday
Important Link
ગ્રામપંચાયત ની લેટેસ્ટ મતદારયાદિ ડાઉનલોડ કરવા અહિં ક્લીક કરો
Important Link
મતદાર યાદી માં તમારૂ નામ છે કે નહી જોવો માટે અહીં ક્લિક કરો 
મતદાર યાદીમાં તમારા નવા નામ ઉમેરવા સુધારો કરવા માટે એપ ડાઉનલોડ કરવા અહીં ક્લિક કરો
તમારું નવું કલર પ્રિન્ટ વોટર આઇડી ડાઉનલોડ કરવા માટે અહીં ક્લિક કરો
નેશનલ વોટર આઇડી સર્વિસ પોર્ટલ અહીં ક્લિક કરો
વોટર ઈલેકશન કાર્ડ કઈ રીતે ડાવુનલોડ કરવું જોવા માટે અહીં ક્લિક કરો
Various forms like Form No. 6, Form No. 6(B), Form No. 7 and Form No. 8 are filled in the electoral roll revision program if you are not able to attend the program in person, then this form can also be filled online. can be filled for which you can download the Water Help Line application and apply online.
Imporatant Document Should Be Carried Forward With You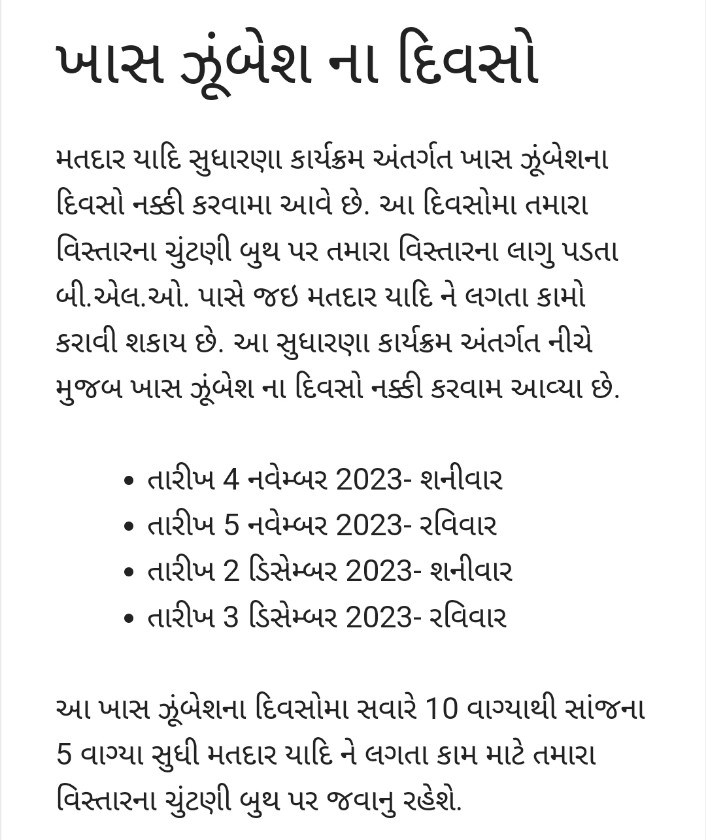 Evidence required
Aadhaar Card. Xerox
School's L.C. Xerox
Election card xerox of any member of the household
Passport Photo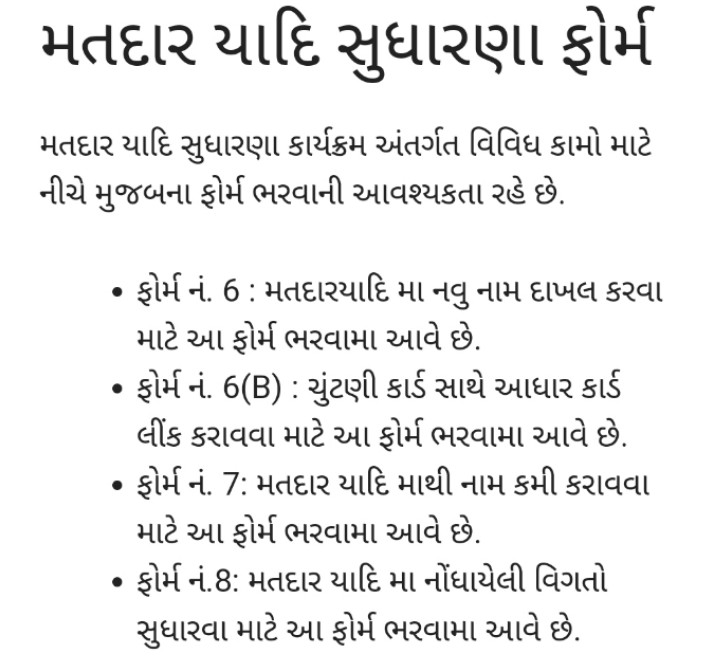 Official Election Commission of India App for Voter Registration and Elections.
About Voter Helpline App
Taking forward its continuous efforts of building an active democratic citizenry in the country, Election Commission of India has undertaken a new initiative by designing a Mobile Application for developing a culture of avid electoral engagement and making informed and ethical ballot decisions among citizens of the country. The app aims to provide a single point of service and information delivery to voters across the country. The app provides following facilities to Indian voters:
A. Electoral Search (#GoVerify your name in the electoral roll)
B. Submission of online forms for New Voter Registration, shifting to a different
the constituency, for Overseas Voters, Deletion or Objection in the electoral roll, correction of entries & Transposition within Assembly.
C. Register Complaints related to Electoral Services and track its disposal status
D. The FAQ on Voter, Elections, EVM, & Results
E. Service & Resources for Voters & Electoral Officers
F: Find the Election Schedule in your area
G: Find all the candidates, their profile, Income Statement, assets, criminal cases
H: Find the Polling Officials and call them: BLO, ERO, DEO and CEO
I: Click a selfie after Voting and get a chance to be featured in the Official Voter Helpline App Gallery.
J: Download the list of Contesting candidates in PDF format and take the print out.
Friends, we should consider it our duty to spread this program a lot and make this thing available to everyone so that the needy people can benefit from it.
Important Note:- Friends, this is not an official site of the Election Commission, we have only created a post to provide information, so before taking any decision, please contact the official site or the nearest government offices, thank you.