Maruti will launch cheaper car than Alto find out the price and features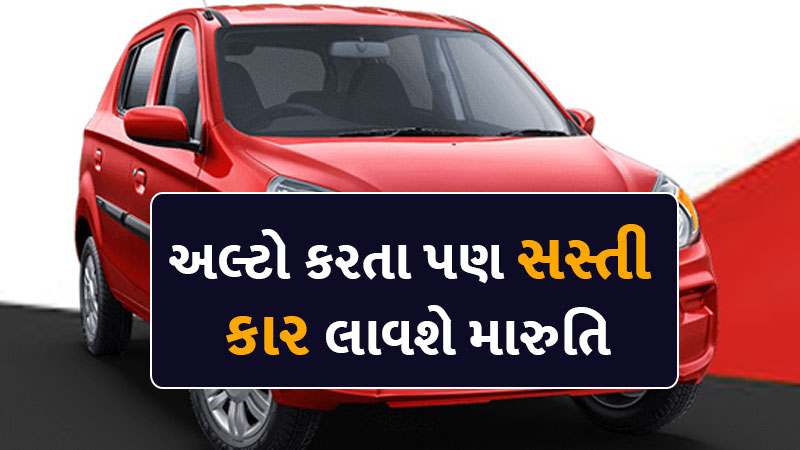 Auto / Middle Class dream will come true: Maruti will launch cheaper car than Alto, find out the price and features
Car sales have increased in the Corona period. People are avoiding traveling in public transport and keeping this in mind, Maruti Suzuki has come up with a cheap car.
Maruti will bring cheaper cars than Alto
Testing of electric cars is also underway
The car will be launched with 1000CC engine
Maruti Suzuki has built the cheapest car ever. The price of this car can be around 4 lakh rupees. Maruti Suzuki's car will be a replacement for the Alto or a new version. It will be launched in the market with a new look.
It is being said that this small car from Maruti will have better features than the Alto. Special features are provided in the AC variant. This car could be launched soon. At present, the top model of Maruti Alto is priced at Rs 4.16 lakh.
That being said the car will come with a 1000cc engine and its top variant may have a power window-like feature. There are also possibilities to offer a digital instrument cluster in the car.
According to information, this electric car of Maruti Suzuki was spotted during testing recently. The company is now gearing up to launch this car in India and the fuel version of this car is already in India and now this model will also be available for Indian consumers.
ગુજરાતીમાં ન્યૂઝ રિપોર્ટ વાંચવા માટે અહીં ક્લિક કરો.
It is said that the range of this car will be 200 km which means that this car will be able to run 200 km on a single charge. With the help of fast charger this car can be charged up to 80 percent in 1 hour and you can use this car often.